8-10mm Extra Large Black Goji Berry Wild Dried Goji Berry Organic China Goji Berry Black Color Free Shipping
0
stars, based on
0
reviews
Price:
$60.00$55.00 / gram




Speaking of Black

Goji Berry

, many friends are not familiar with it. It

is a rare species unique to Qinghai. Because it grows in the desert area of the basin at an altitude of 2800-3000 meters, only the Black Goji Berry in Nomuhong,

Ch

aidam

u

Basin, Qinghai Province is the most authentic in China.
Black Goji Berry is distributed in Alpine sand forest, salinized sand, river banks, dry river banks and desert riparian forests. It is a unique desert medicinal plant species in the west of China. Wild Black Goji Berry has strong adaptability. It can endure 38.5 degrees Celsius, high temperature and strong cold tolerance. It has no frost damage and drought tolerance at 25.6 degrees Celsius, and it can still grow in desert area. It is the light tree species, under full illumination robust development, growth in thin shade, flowers and fruits are. Not strict with soil, salt tolerance and drought resistance.The plant environment of Black Goji Berry is unique, with an altitude of 3000 meters, strong solar radiation, sunshine duration up to 3600 hours in a year, creating a green ecological environment, bred a treasured Black Goji Berry favored by the world. It is pure and natural, safe and non-toxic. Our Black Goji Berries are rare, 10 pounds of fresh fruit can only get 1 pound of dried fruit, it is known as "soft gold".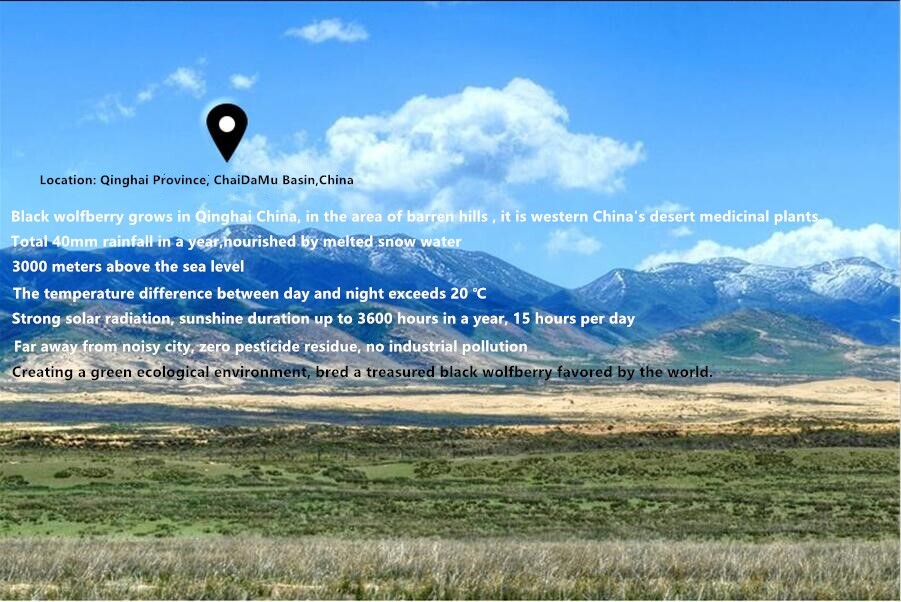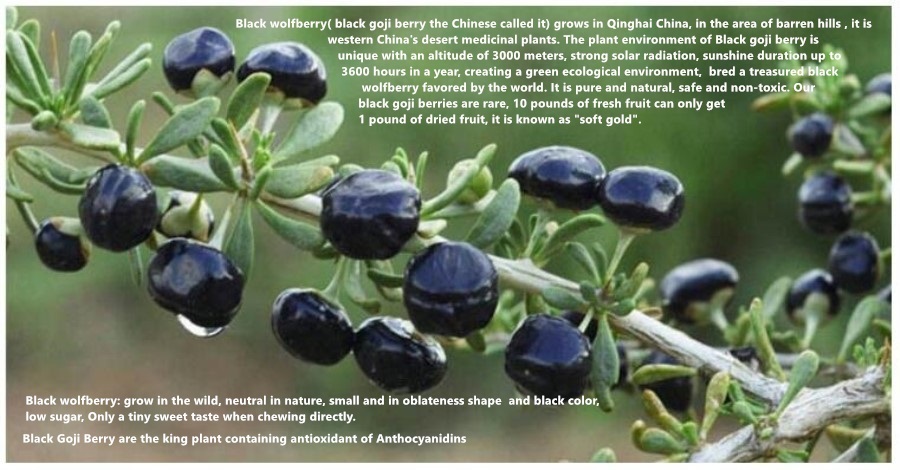 Appearance and taste
Black Goji Berry grow in the wild, small and in oblateness shape and black color, low sugar, Only a tiny sweet taste when chewing directly. The fruit may be eaten fresh, dried or made into a tea, and just a few dried fruits added to water will turn it vivid purple.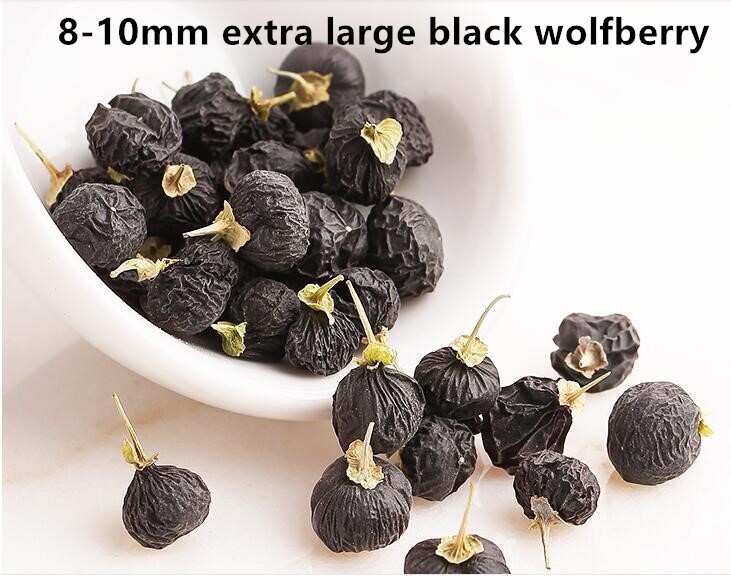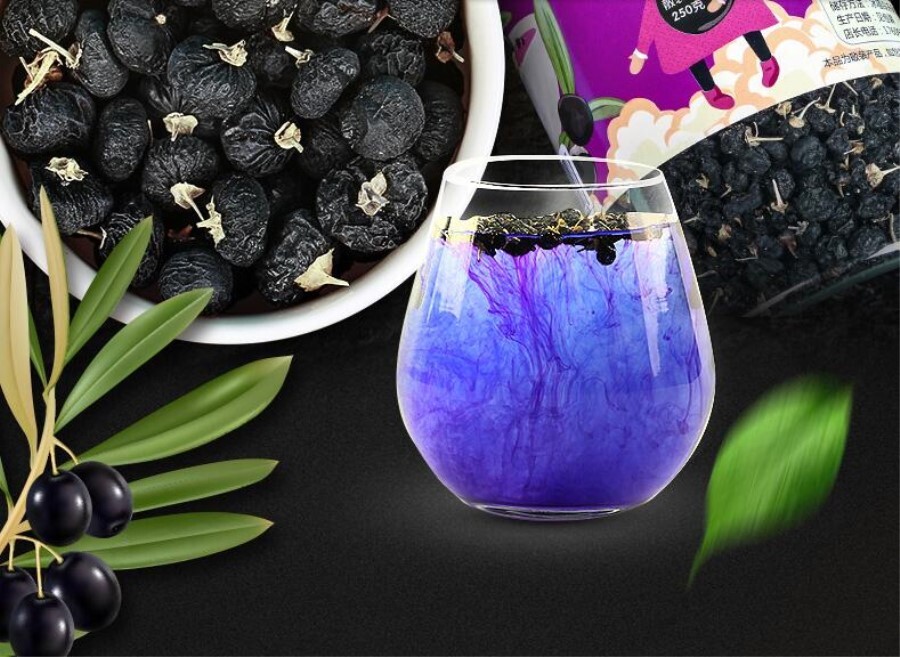 Black Goji Berry, tiny sweet in flavor, neutral in nature, they are rich in protein, amino acid, vitamin, mineral, microelement and so on. Black Goji Berry also Contains abundant natural Oligomeric Proantho Cyanidins (OPC), even more than blueberries, up to 3690 mg / 100 g. Black Goji Berry has the highest content of OPC which are far more than blue berry. OPC is the most effective natural water soluble natural radical scavenger, Its efficacy is 20 times of VC, 50 times of VE. So Black Goji Berry is also honor as Blue lover in the wild.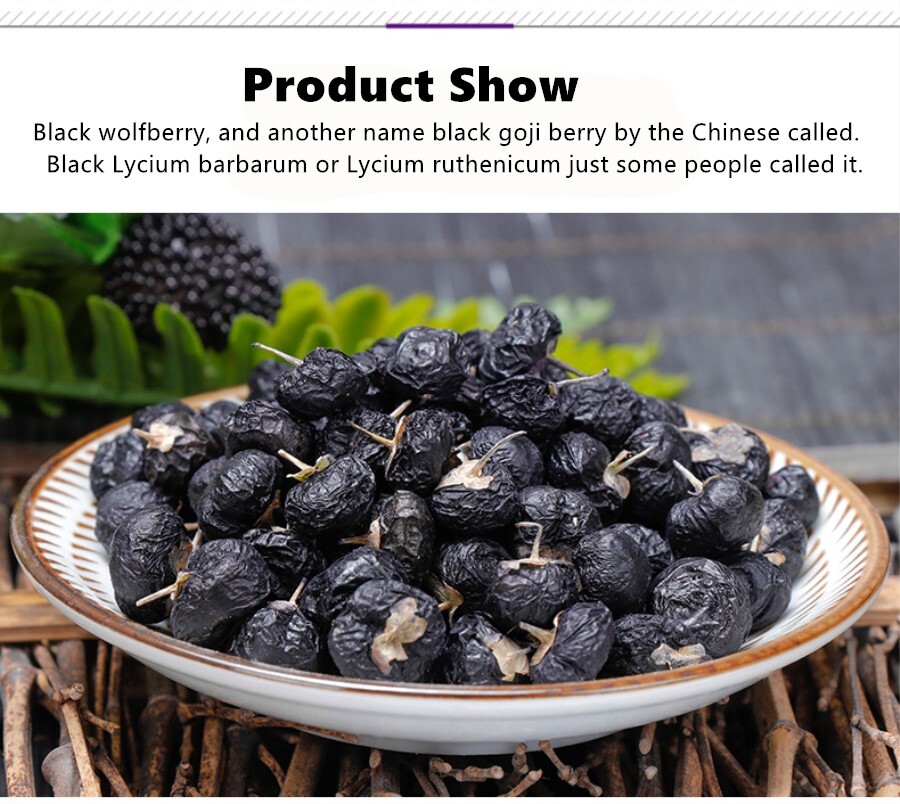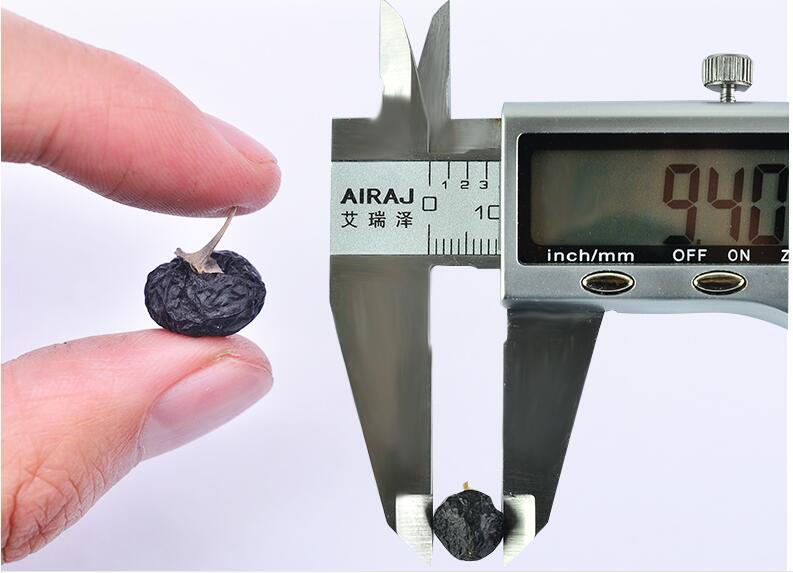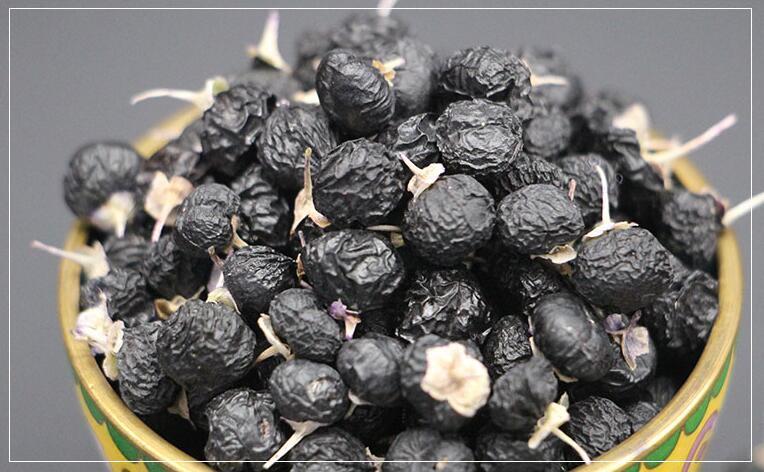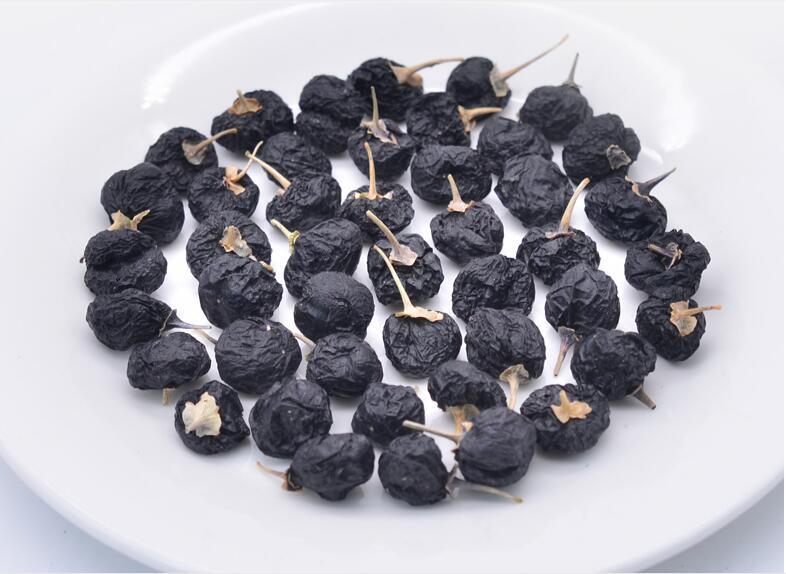 Referring to trading of Black Goji Berry, it is classified as follows:
1) Organic and non-organic
2) manly-planted and natural wild.
3)in size : it is catergorized as small berry(smaller than 5mm) , medium-sized berry(5mm-6mm), large berry (6mm- 9mm),and extra large(8-10mm)
Our berries are organic and truly wild.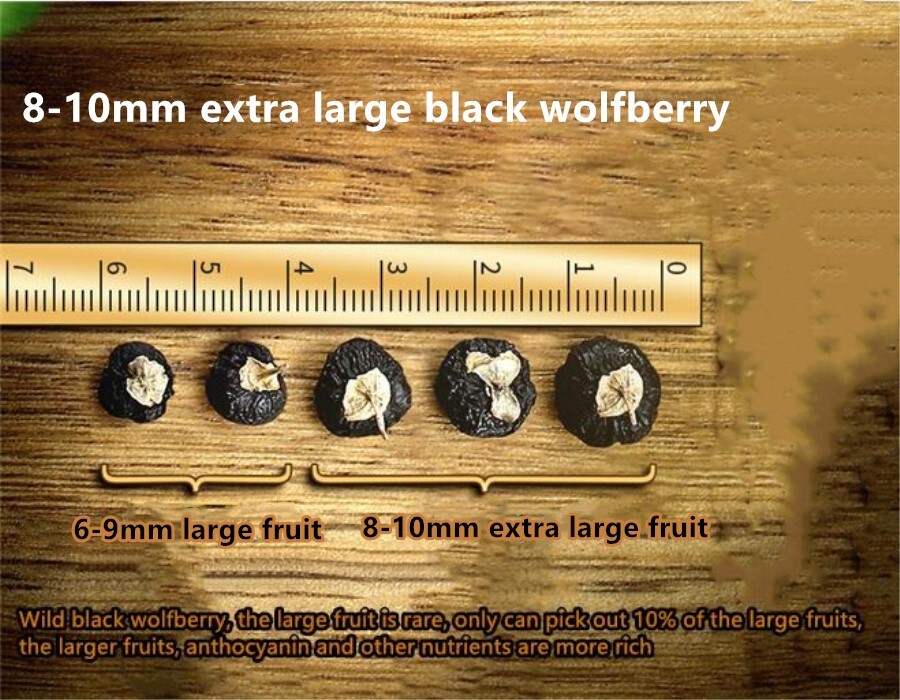 Click Here To Buy 6-9mm Large Fruit Black Goji Berry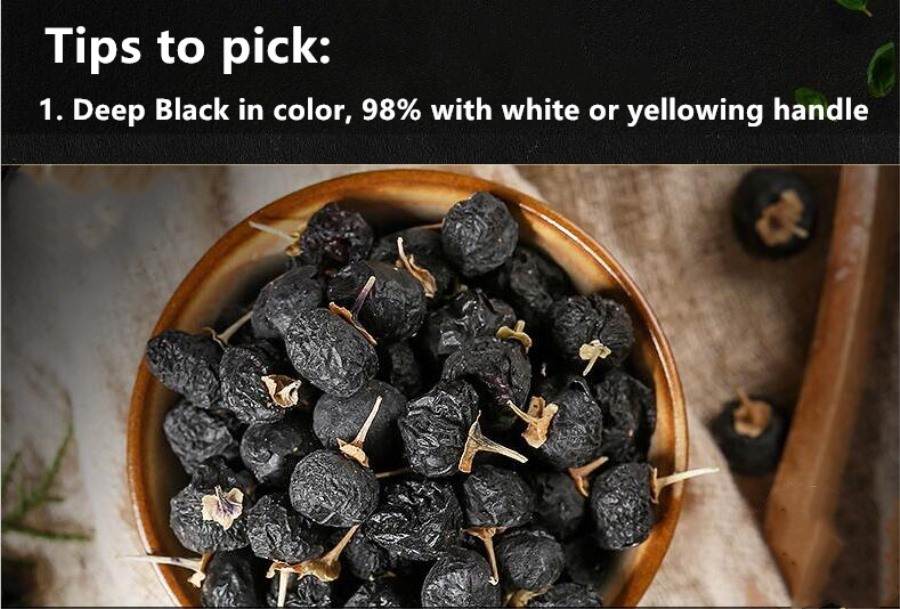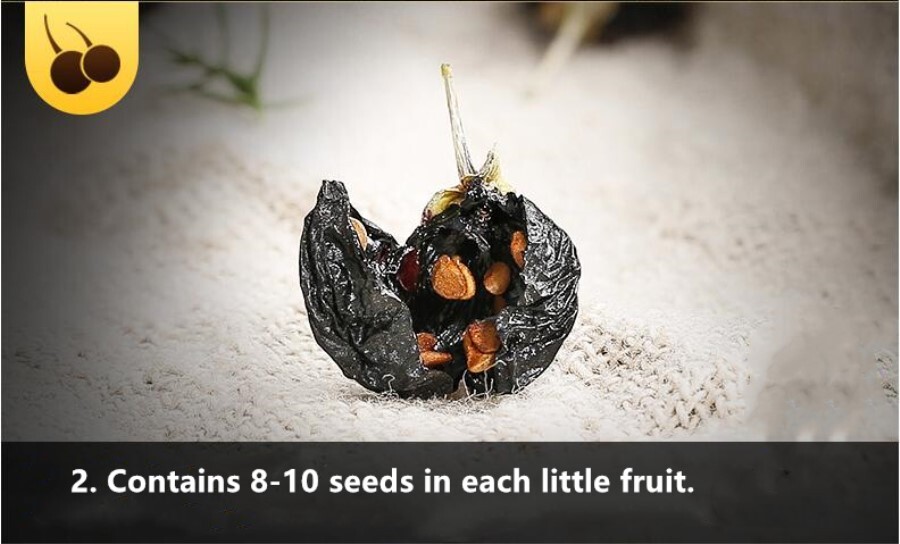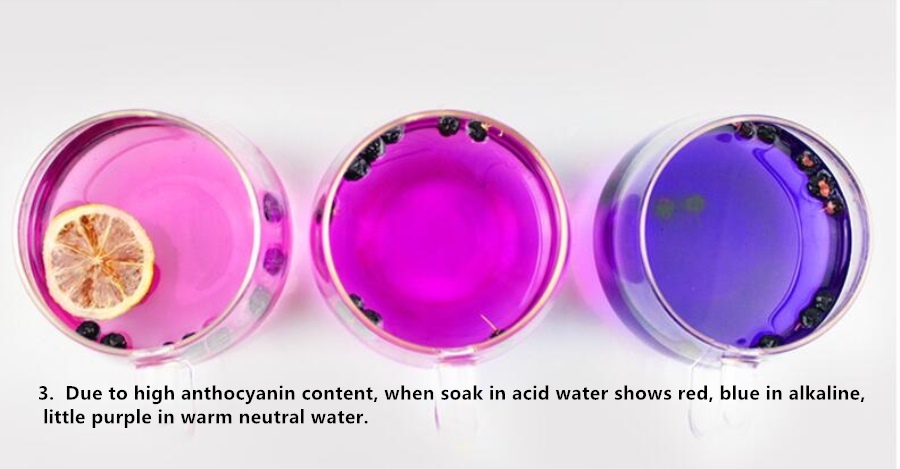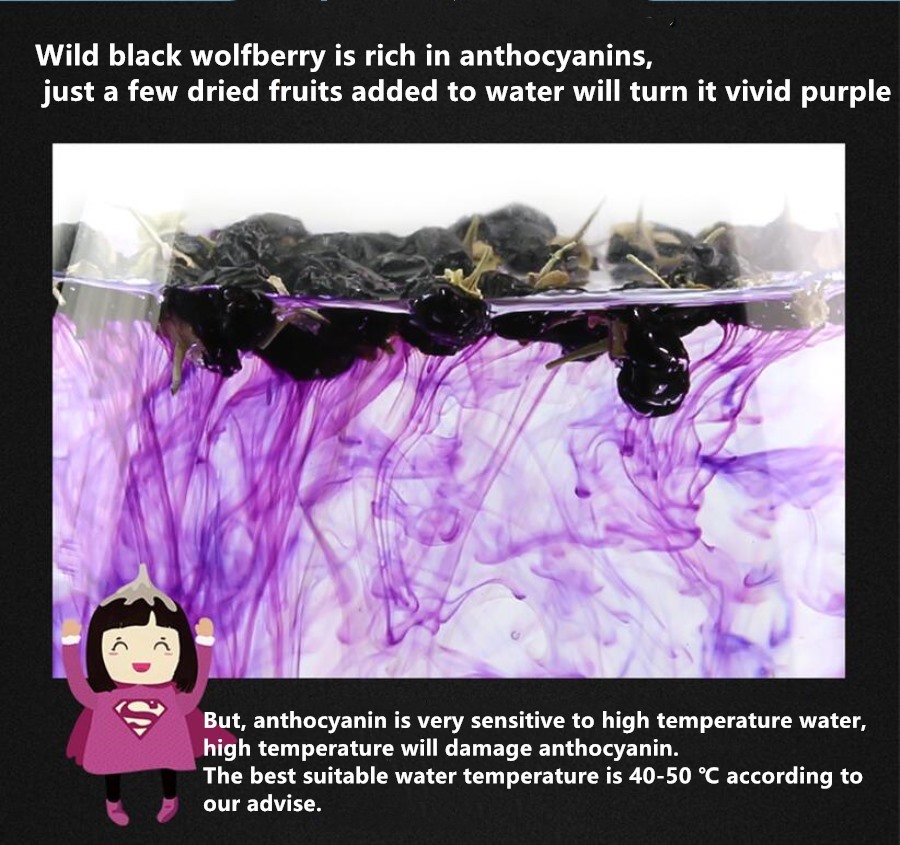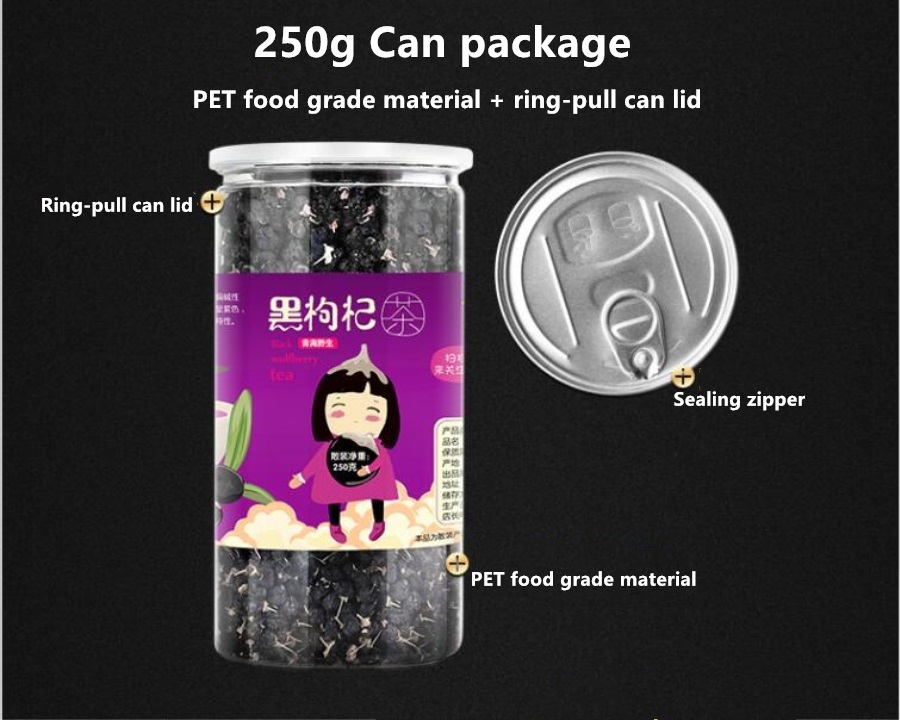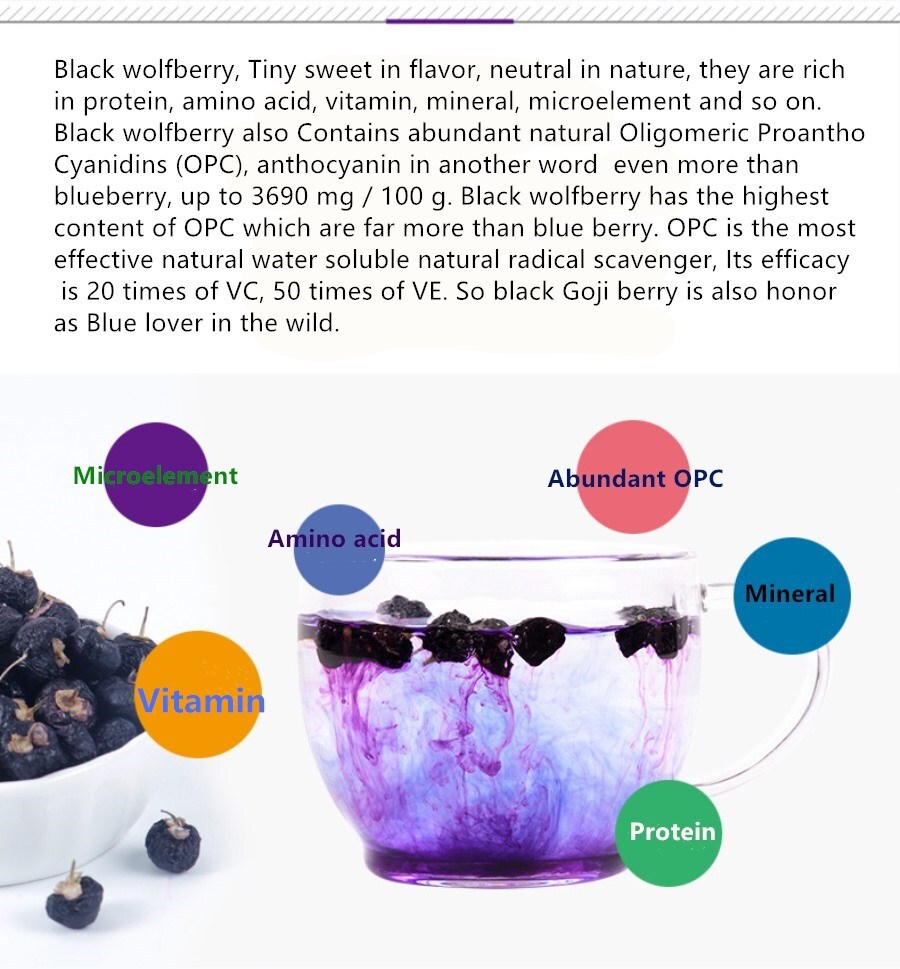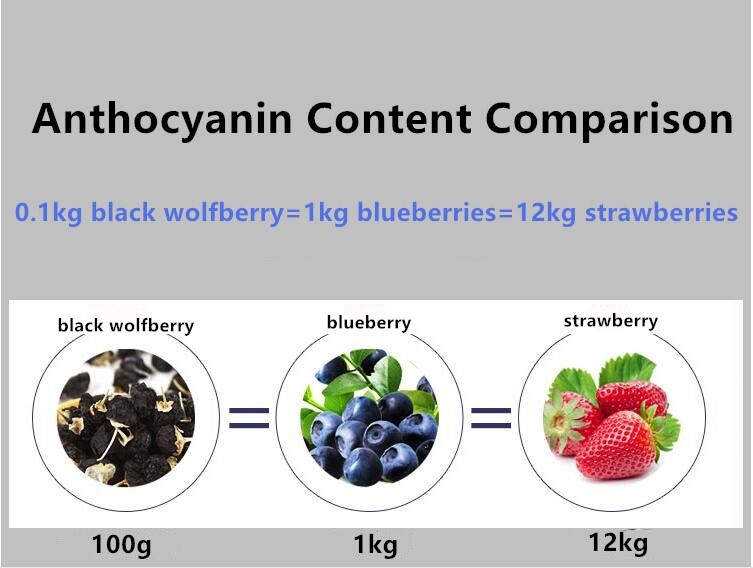 Wild Chinese Black Goji Berry is rich in anthocyanins, the king plant containing antioxidant of Anthocyanidin or [Oligomeric Proantho Cyanidins(OPC)] , freckle-removing cosmetic effect, known as "oral cosmetics" by experts. Many celebrities and cosmetologists have recommended it, but now there are fewer and fewer pure wild goods on the market.


Oligomeric Proantho Cyanidins(OPC), [Edible Skincare Cosmetic",Researching shows human age can reach 125 years old, if we had solved the problem of free radical in the body, so the cells would grow freely.

So human age depends on the power of antifree radical. The discovery of OPC make people find a simple and positive way of antiaging. Black Goji Berry has a plenty of OPC, in Europe it is called as [Edible Cosmetic", preventing earlygrowth of skin wrinkle, is a kind of effective antioxidant.

The experts discovered the wild Black Goji Berry has a plenty of OPC, by now the content is highest level in the world, and its effective is unique contrasting other antioxidant.OPC can remove lots of free radical in the body, and keep the skin from polluted air, ultraviolet rays, stop forming the melanin, enhance growth of new cell, so as to make the skin perfect. Wild Black Goji Berry is helpful to perfect the looks.

What`s OPC:::OPC is a kind of special construction of biology flavonoid, is well known as a natural antioxidant for removing free radical in the body, it is a brown powder, few smell, astringent flavour, can dissolved in the water and organic solvent.

OPC in the life.Many ladies like to eat blue berry, dragon fruit, grape, and learn them helpful to the looks, but they know little of the reason. In fact the fruits have a plenty of OPC, it can have a anti-aging and stop the forming of wrinkle.

Edible Method::: Adults eat about 10 to 20 grams of Goji Berry more appropriate , you can also change the number according to the situation to achieve the best results. Black Goji Berry can be soaked in the water below 50 centigrade degree, also can be drunk as a tea and wine

You can find important useful benefits from Black Goji Berry

1.Cancer prevention

2.Protect eyesight

3.Beauty &skin care

4.To improve the circulation

5.Anti-aging

6.Enhance immunity

7.Resistance to radiation

8,Regulating blood lipid
Benefits of B

lack Goji Berry




1.Improves liver and kidney function, Promotes body immunity, anti-aging, profits lung and eyesight effects.




2.Cure liver and kidney deficiency, soreness and weakness of waist and knees, Giddy dazzled, blurred vision, diabetes and so on.




3.strengthen body's resistance to diseases,suppressing tumor growth and cell mutation effectively, anti-aging,has a better function in adjusting blood fat and resisting fatty.




4.Promote hematogenic function.
Nutrient ingredients of Black Goji Berry

| | | | |
| --- | --- | --- | --- |
| No. | Item | Unit | Value |
| 1 | | % | 6.94 |
| 2 | Ca | mg/kg | 1457 |
| 3 | Fe | mg/kg | 324 |
| 4 | Zn | mg/kg | 12.5 |
| 5 | Nicotinic acid | mg/kg | 14.87 |
| 6 | OPC | mg/kg | 3690 |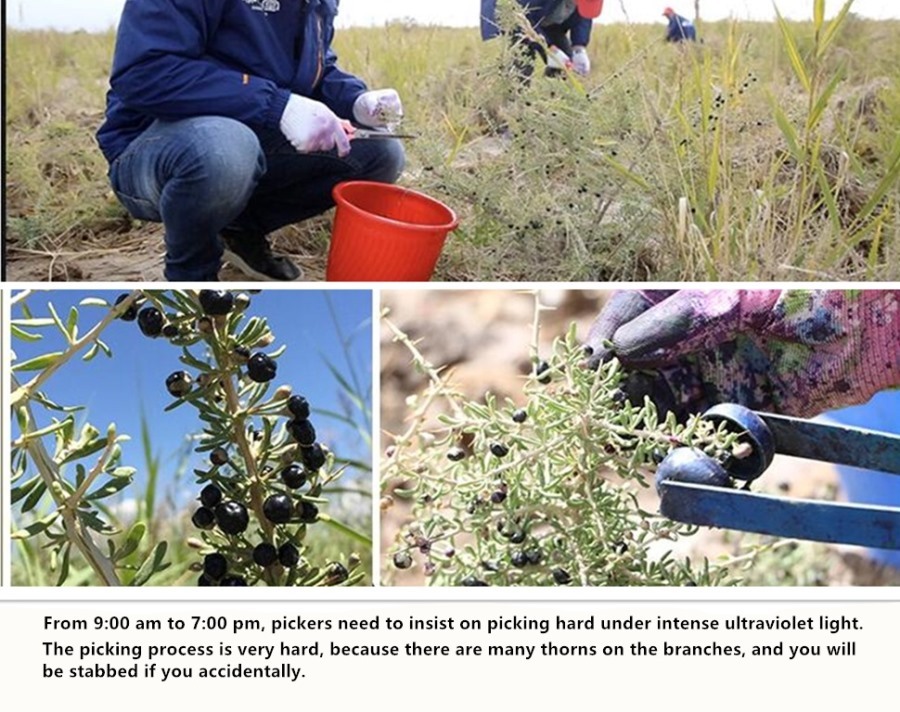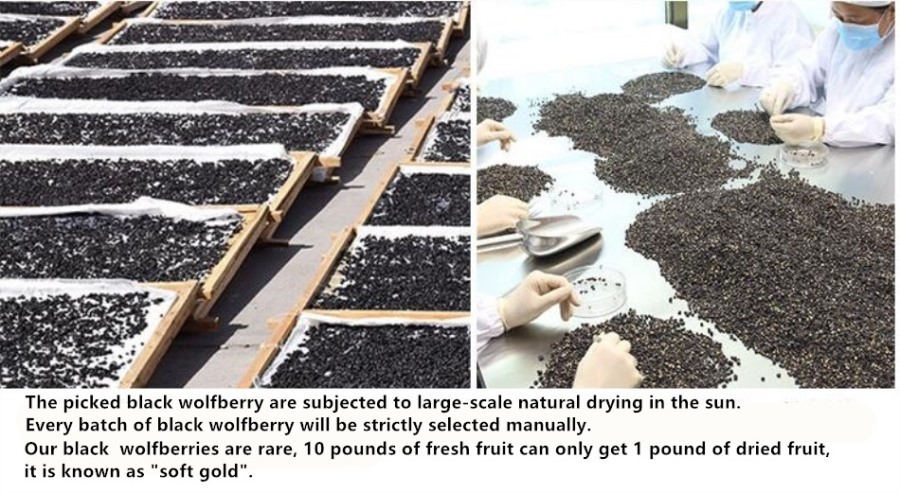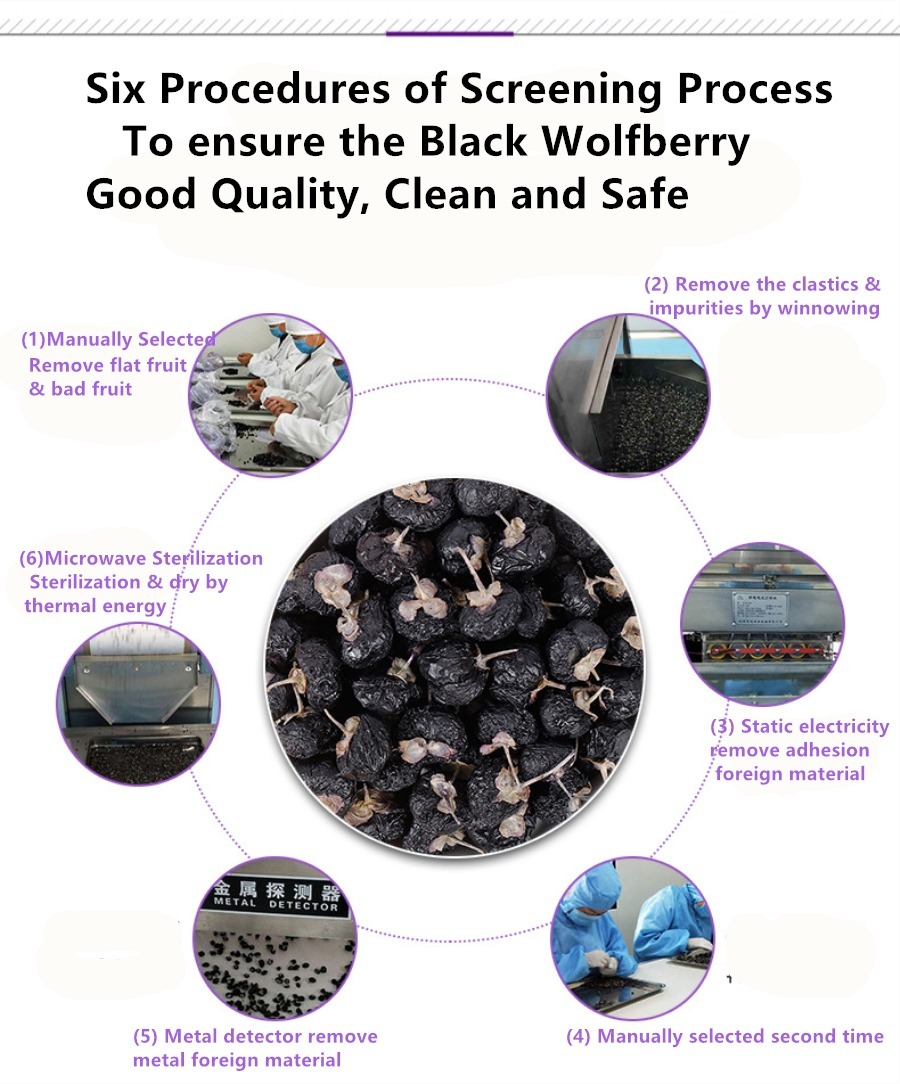 Brewing Instructions for
B
lack Goji Berry
Tea

:
Directly eat or put into tea, water (Below 60℃ ) , wine for drinking. It is advisable to have 20g on a daily basis. You may add or reduce the amount depending on your specific situation.
Remember, the water temperature should be between 40-60ºC. Black Goji Berry is highly loaded with anthocyanin and using hot water above 60ºC to brew it would destroy it's nutrients and benefits due to the fragile of anthocyanin.
.
First prepare one cup (150 ml) of 40ºC-60ºC water.
Put 8-10 Black Goji Berries into the water.
Let steep for 3-5 minutes before drinking.Your cup of tea will begin to turn blue or purple within a minute. If you would like your blue or purple tea to change color (kids love this!), then simply add a drop of lemon, lime juice or some lemon slices to your drink and it'll magically turn pink.
It can be steep multiple times until all favors are gone.
No artificial colors, no additives, no preservatives!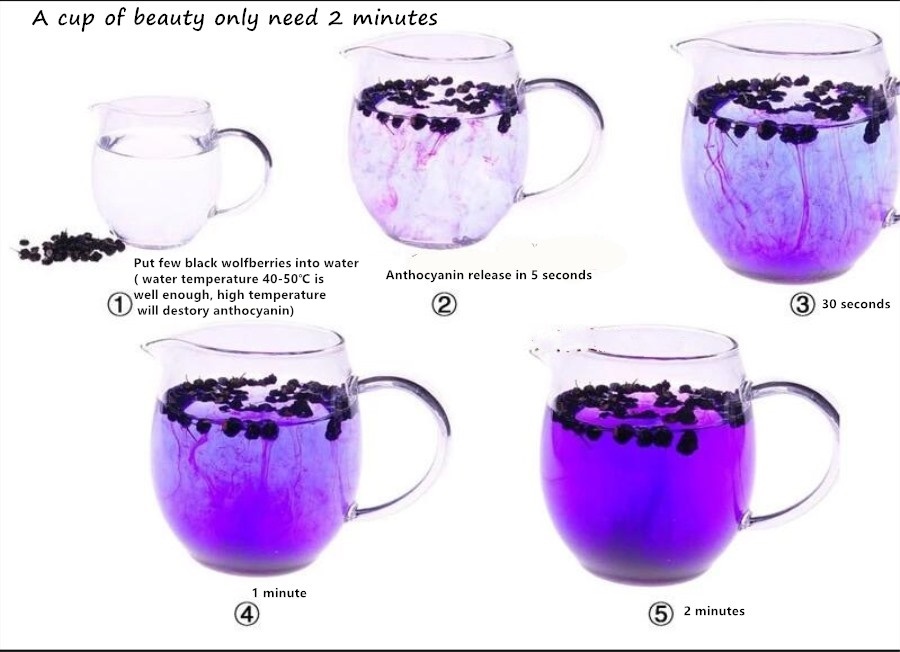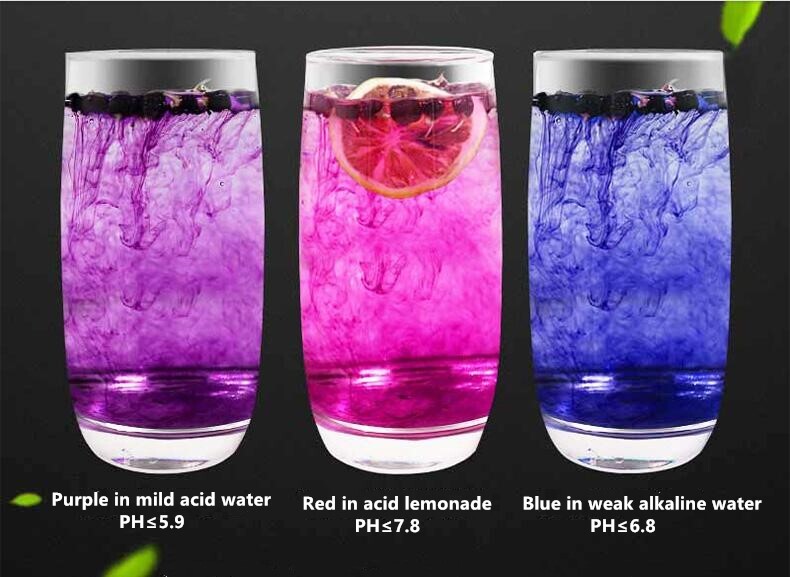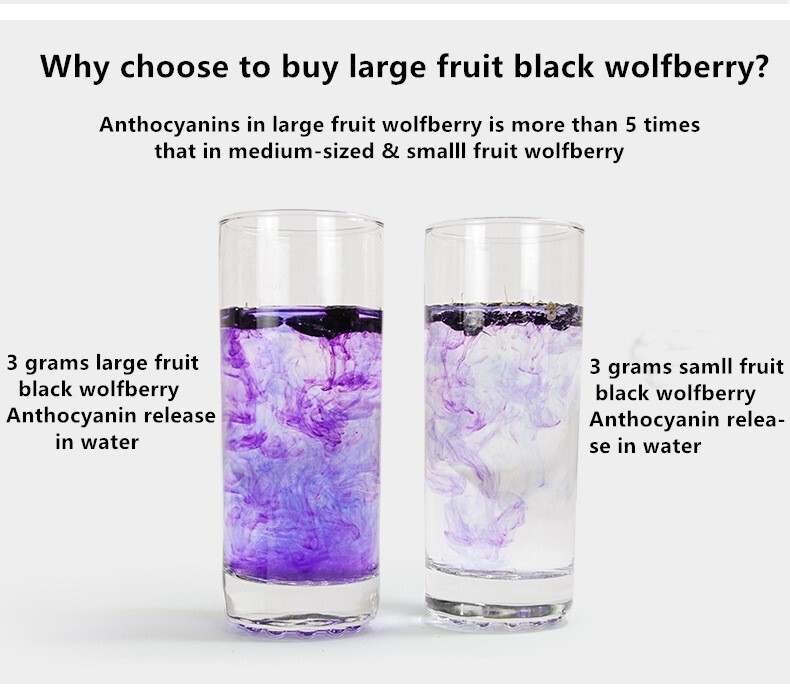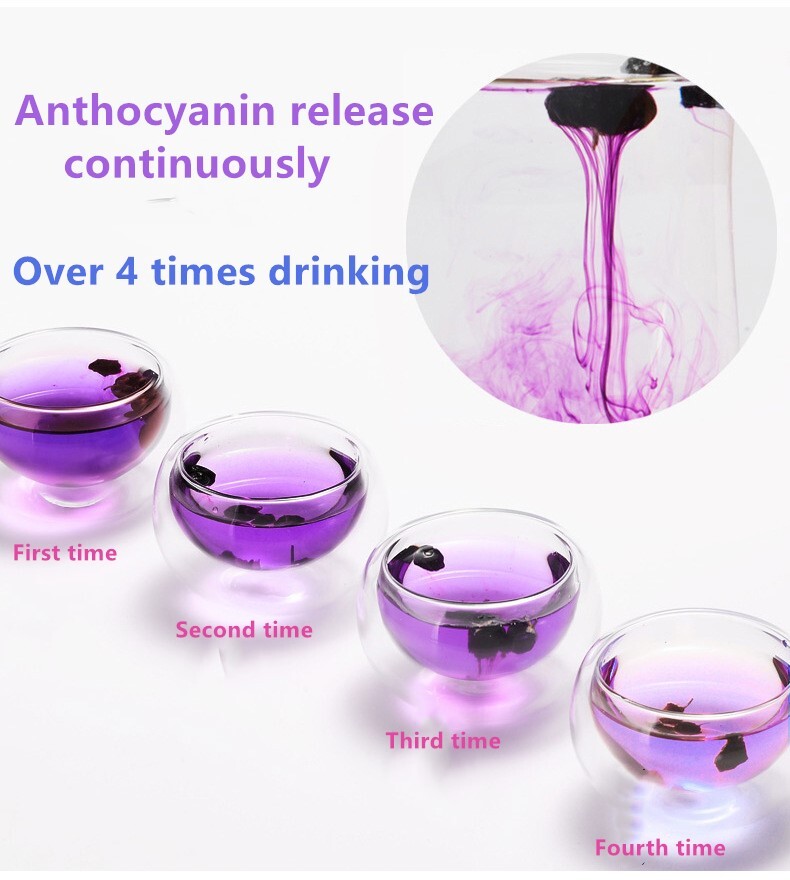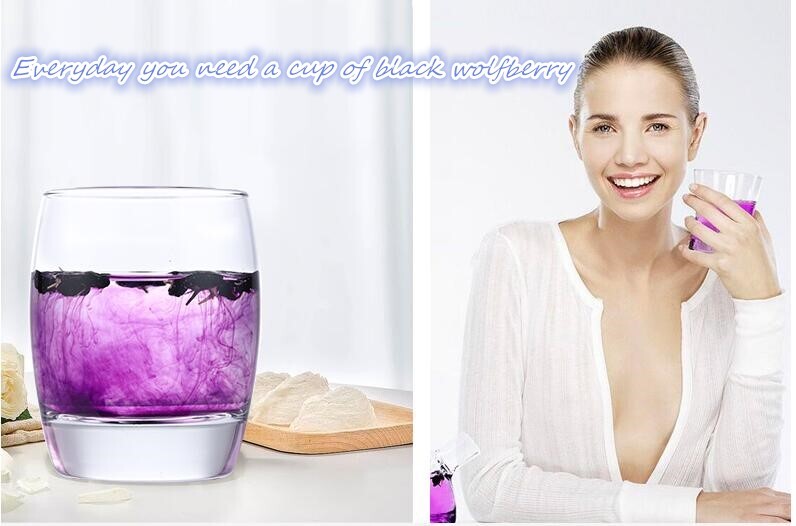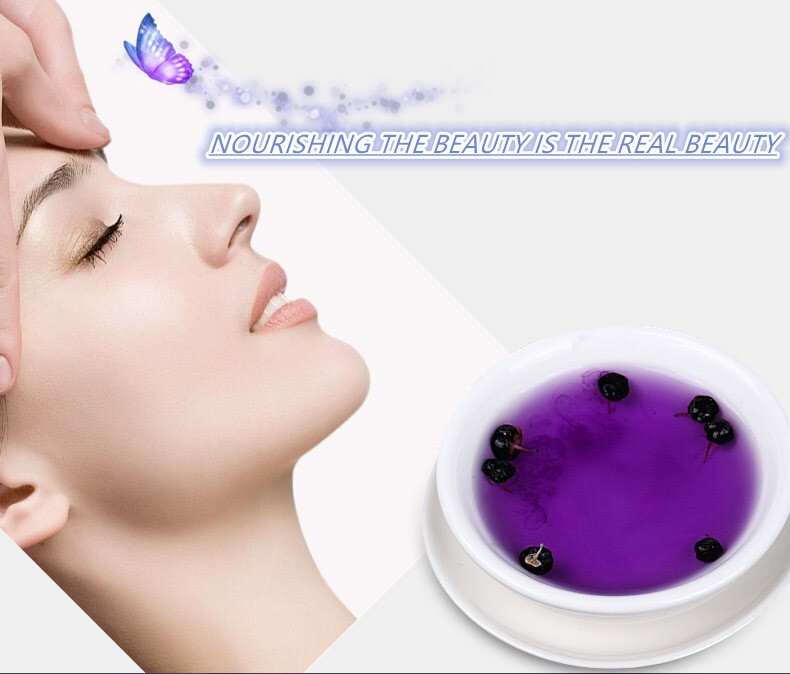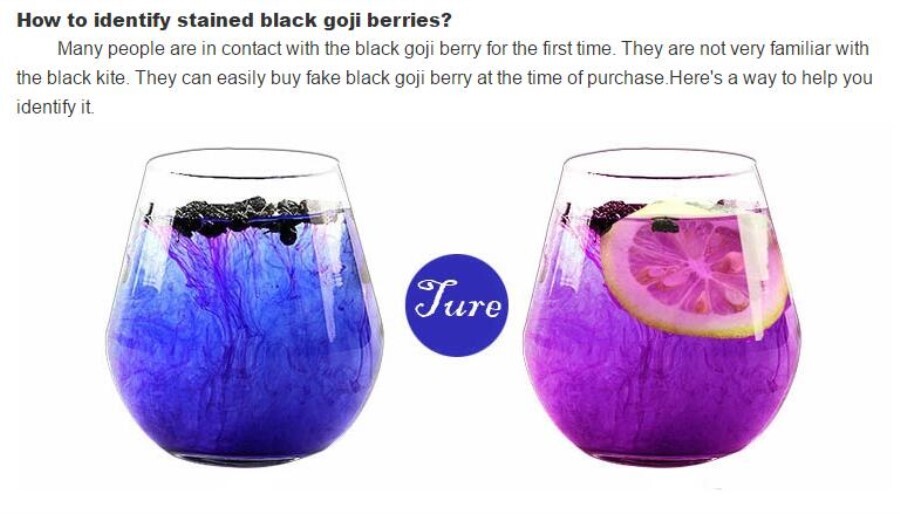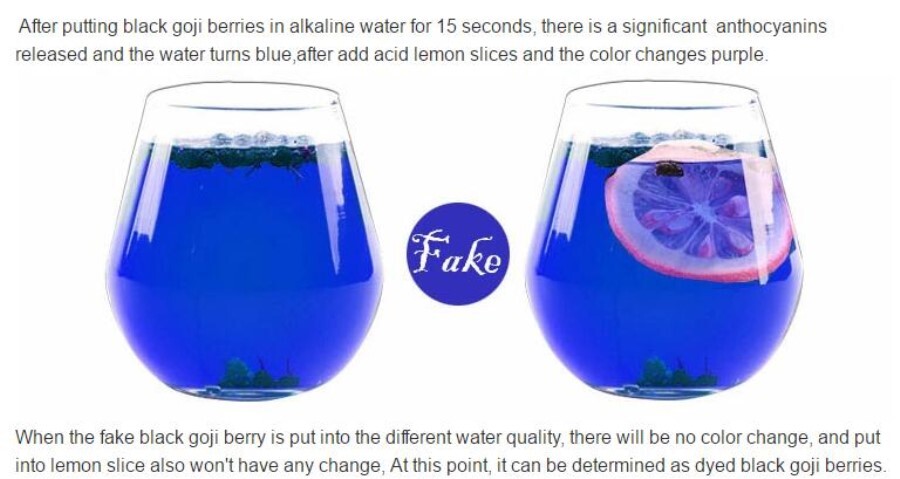 Product Overview & Details
Net Weight: 100g/250g/500g/1000g can be chosen

Berry Size:4-5mm/6-9mm/8-10mm can be chosen
Ingredients: 100% black goji berries, dried
Botanical name: Lycium ruthenicum
Processed and manufactured in: China, dried using high-temperature ovens without chemicals (standard heat)
Country of Origin: PRC
Packaging: PET food grade can package
Quality: 100% Natural organic quality, free from harmful substances/chemicals/heavy metals. 100% cruelty-free.
Color and taste: Typical | Parts used: whole goji berry
Storage Instructions: Dry, Cool & Dark Conditions
Dietary & Allergy Info: Non GMO, Gluten Free. Suitable for vegans, vegetarians. No chemicals/preservatives/additives.
Best before: 12 months from production date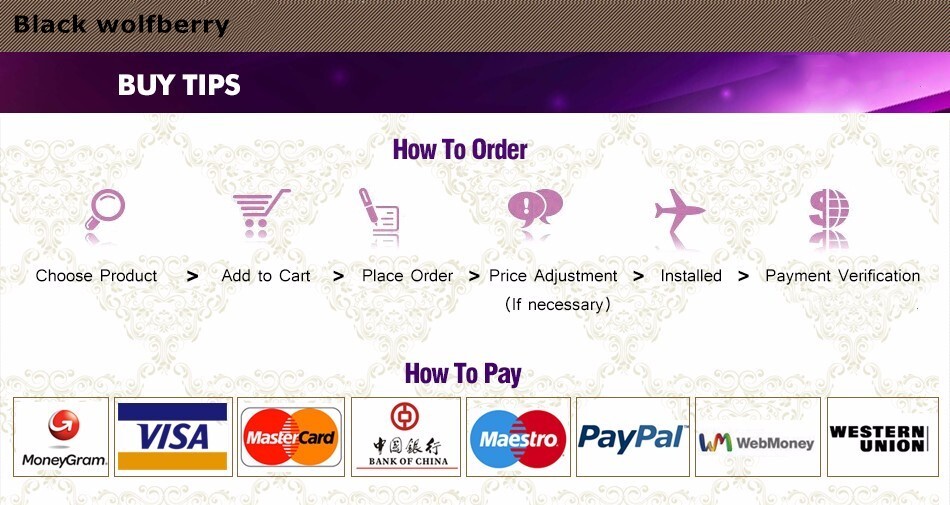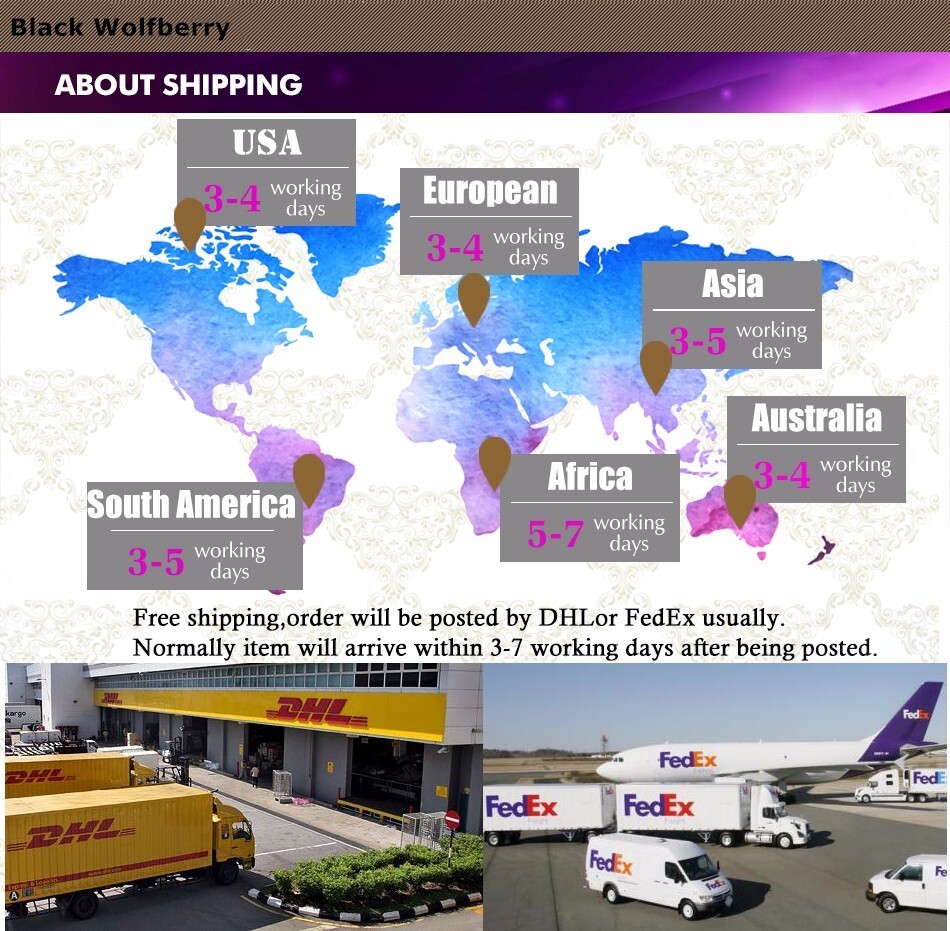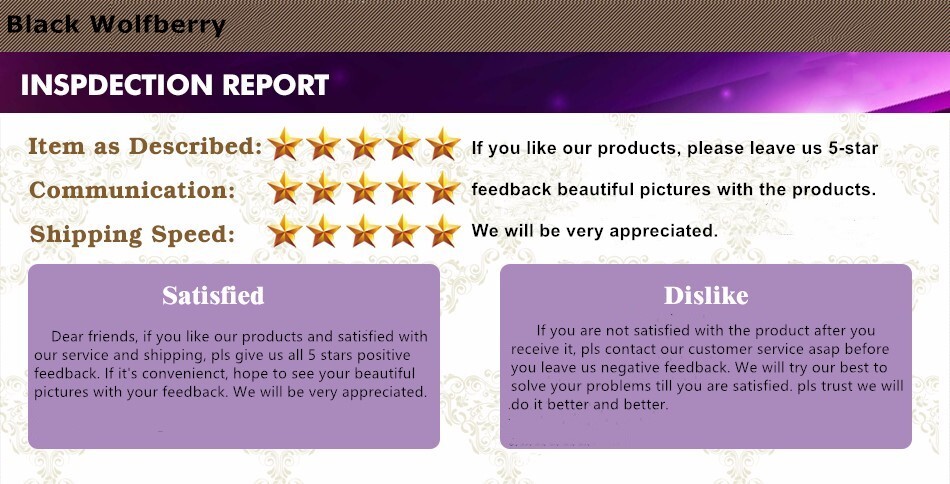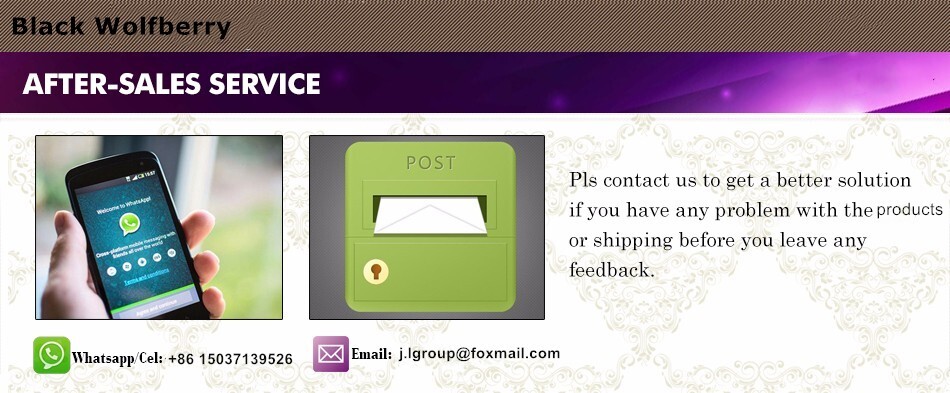 Tags: extra large black goji berry, wild dried goji berry, organic china goji berry black color, cheap organic china goji berry black color
If you want to know more products, we have: black wolfberry, china jujube organic dried red dates, organic dried seedless green raisin