Black Wolfberry is an incredibly rare and exotic fruit grown widly in the extreme and harsh environments of East Asia.Our wild Black Wolfberry is sourced from Qinghai-Tibet Plateau in China. It is well known for producing some of the very best Black Wolfberry in the world. Qinghai-Tibet Plataeu is a remote dessert terrain with high elevation and low population,a vast elevated plain often referred to as "the Roof of the World".This makes an ideal source for clean air and water without contamination or pollution as human beings could hardly survive in such tough environment.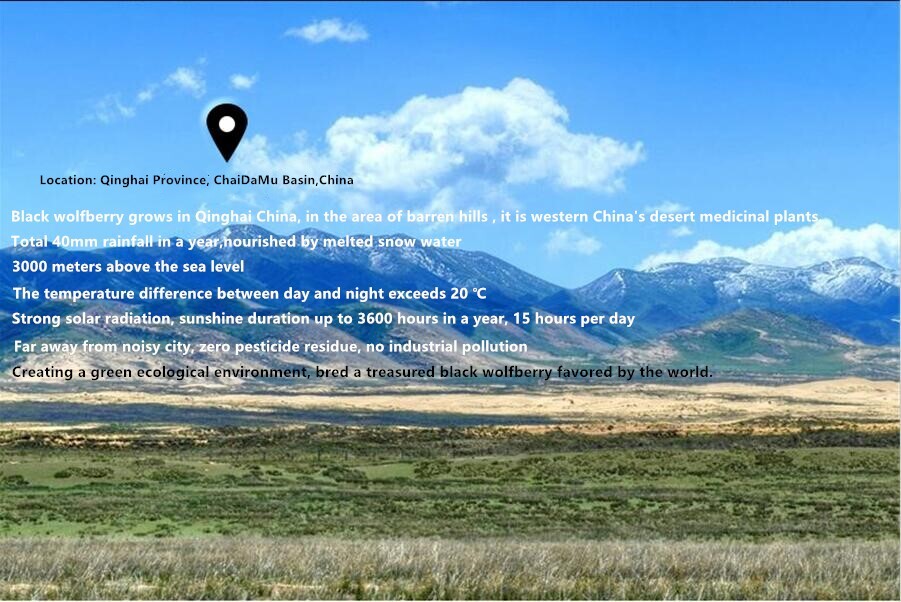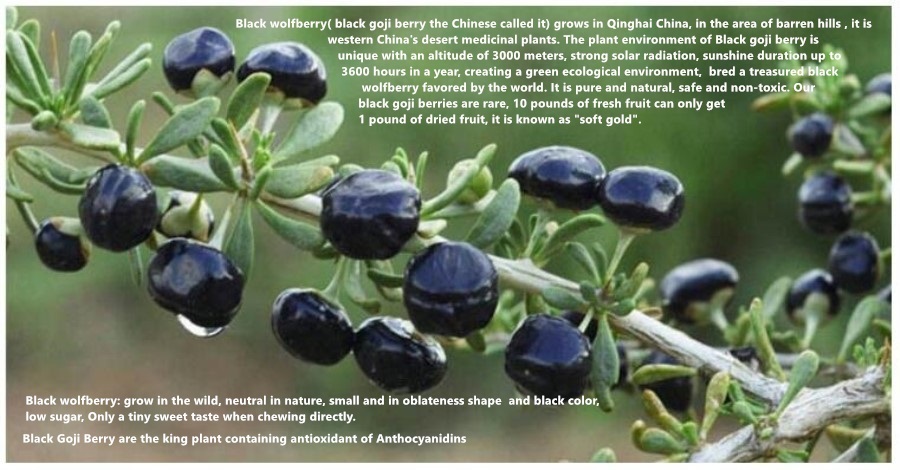 Appearance and taste
Black Wolf Berry: grow in the wild, small and in oblateness shape and black color, low sugar, Only a tiny sweet taste when chewing directly. The fruit may be eaten fresh, dried or made into a tea, and just a few dried fruits added to water will turn it vivid purple.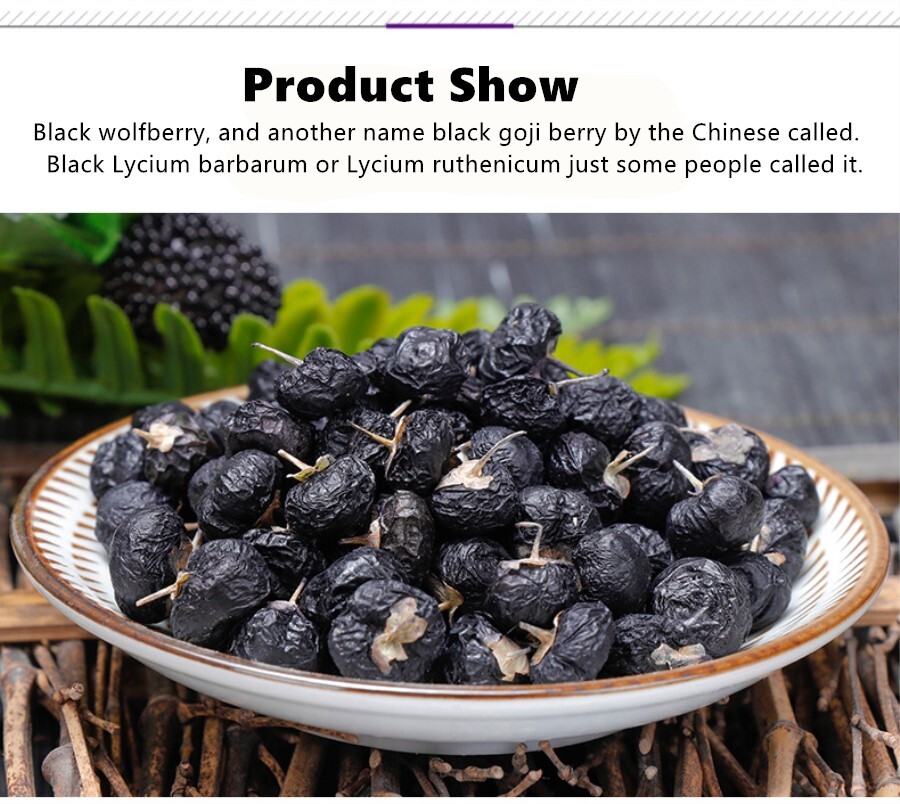 As the richest known plant source of OPC (Oligomeric Proanthocyanidin) it has magnificent antioxidant capabilities. OPC is one of the most effective water soluble free-radical scavengers. It is 20 times more powerful than Vitamin C and 50 times more powerful than Vitamin E. As a result, Black Wolfberry may have the ability to slow down the aging process, lower cholesterol, and to prevent and slow the growth of cancer.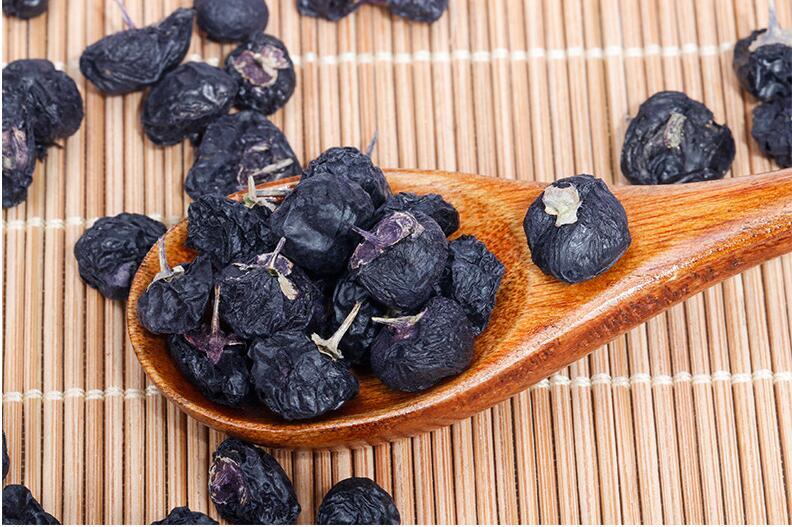 Referring to trading of Black Wolfberry, it is classified as follows:
1) Organic and non-organic
2) manly-planted and natural wild.
3)in size : it is catergorized as small berry(smaller than 4mm) , medium-sized berry(4mm-5mm), large berry (6mm- 9mm),and extra large(8-10mm)
Our berries are organic and truly wild.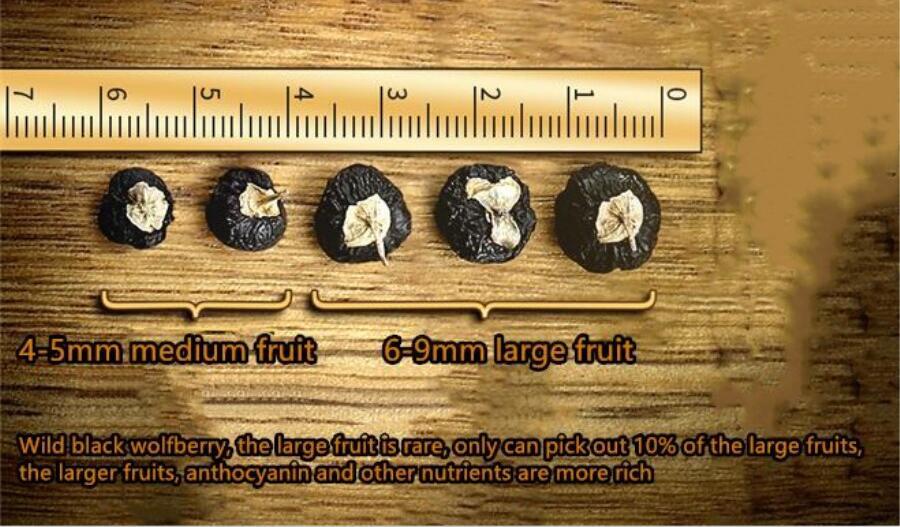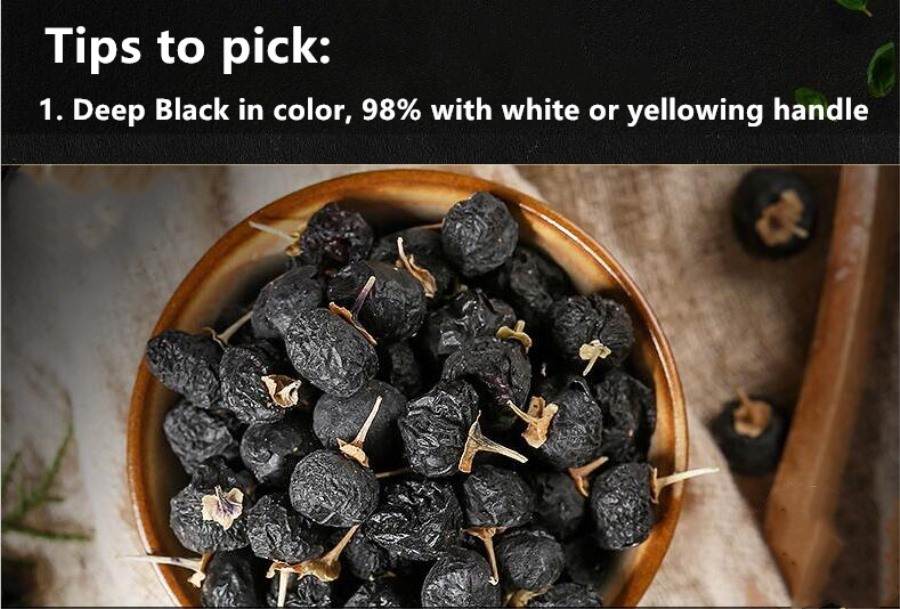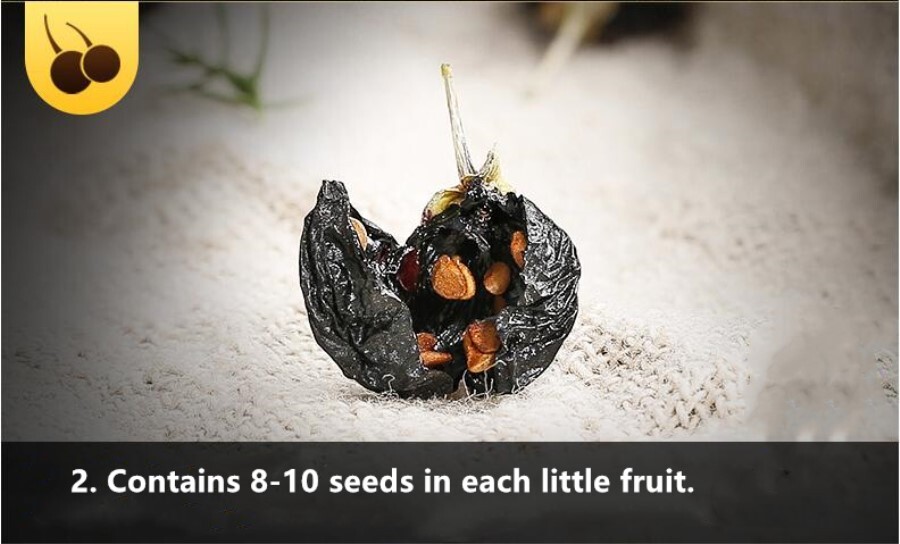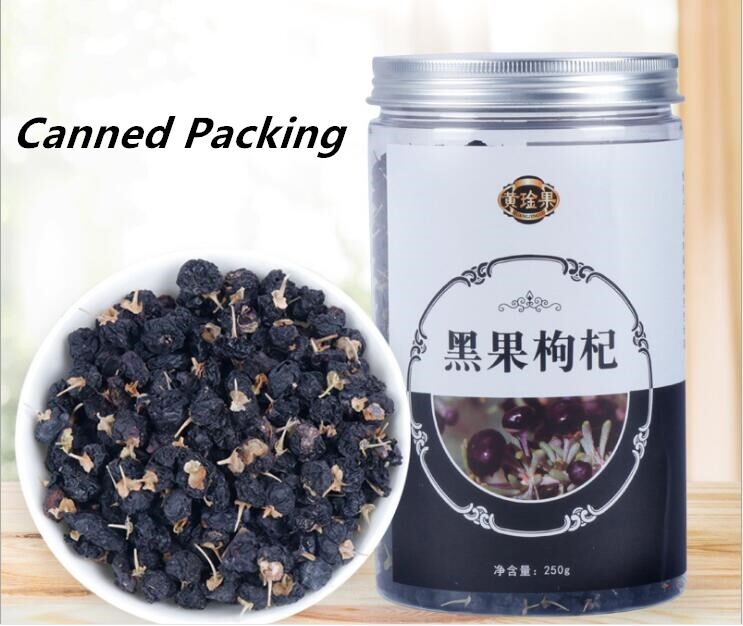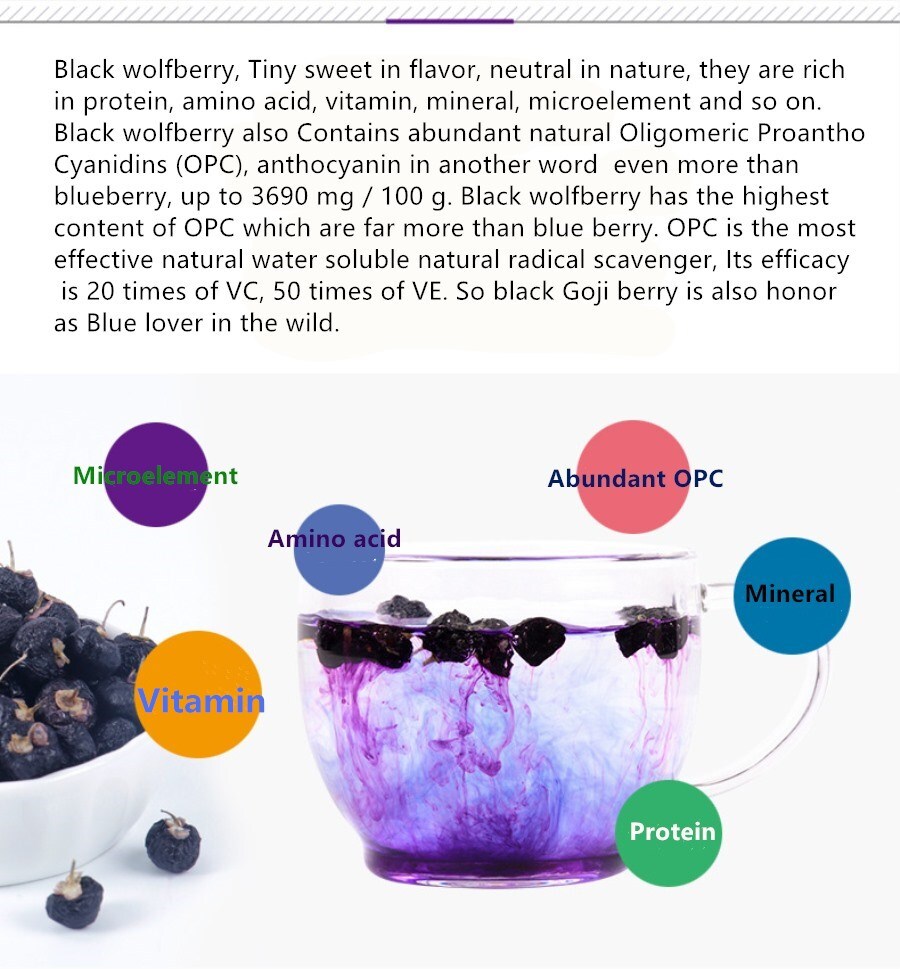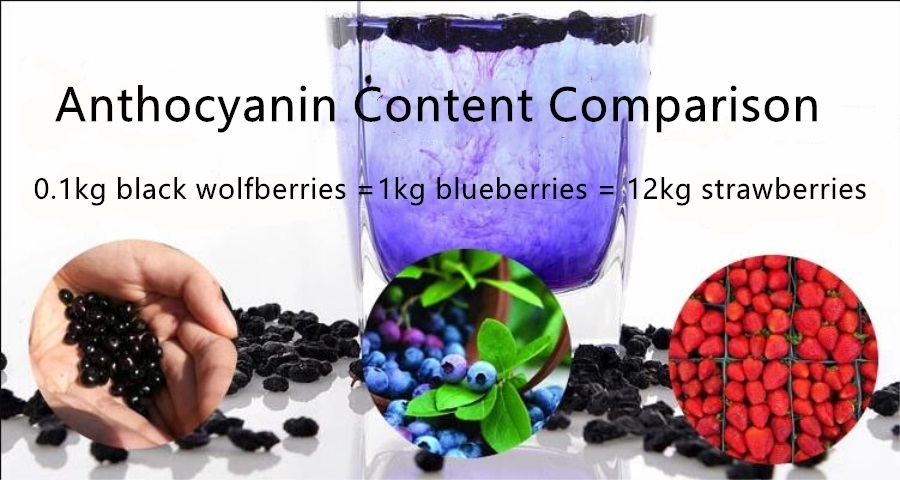 Wolfberry is the common name for the fruit of two very closely related species, namely Lycium barbarum and Lycium Ruthenicum, two species of boxthorn in the family of Solanaceae. Black Goji Berry or Wolfberry species can be grown in many regions and climates but our Black Wolfberry is almost. Unknown.,Black Wolfberry is also known as black goji berry, black barbary matrimony vine, black bocksdorn, Duke of Argyll's tea tree, or black matrimony vine.
The Black Wolfberry's nutritional value is much higher than the closely related Red Wolfberry. The mineral and trace elements content is also much higher than the Red Wolfberry. Black Wolfberry have been known to increase melanin levels in the body and reduce free radicals through their high level of antioxidants.
Benefits of B

lack Wolfb

erry



1.Improves liver and kidney function, Promotes body immunity, anti-aging, profits lung and eyesight effects.
2.Cure liver and kidney deficiency, soreness and weakness of waist and knees, Giddy dazzled, blurred vision, diabetes and so on.
3.strengthen body's resistance to diseases,suppressing tumor growth and cell mutation effectively, anti-aging,has a better function in adjusting blood fat and resisting fatty.
4.Promote hematogenic function.
Nutrient ingredients of Black Wolfberry

| | | | |
| --- | --- | --- | --- |
| No. | Item | Unit | Value |
| 1 | | % | 6.94 |
| 2 | Ca | mg/kg | 1457 |
| 3 | Fe | mg/kg | 324 |
| 4 | Zn | mg/kg | 12.5 |
| 5 | Nicotinic acid | mg/kg | 14.87 |
| 6 | OPC | mg/kg | 3690 |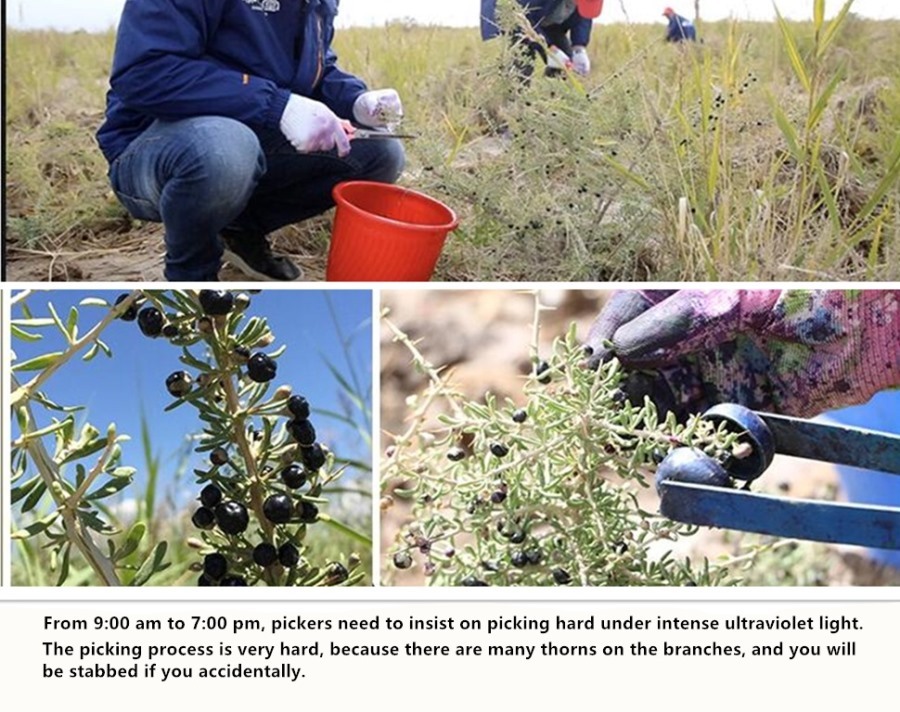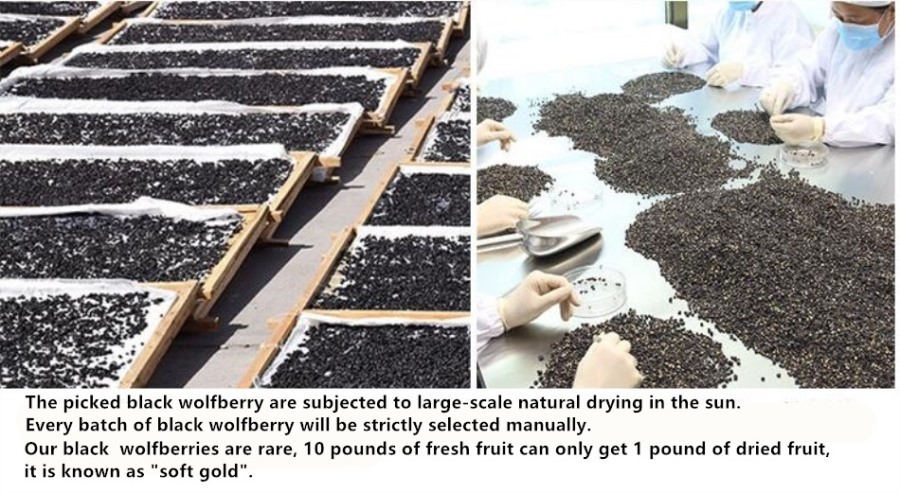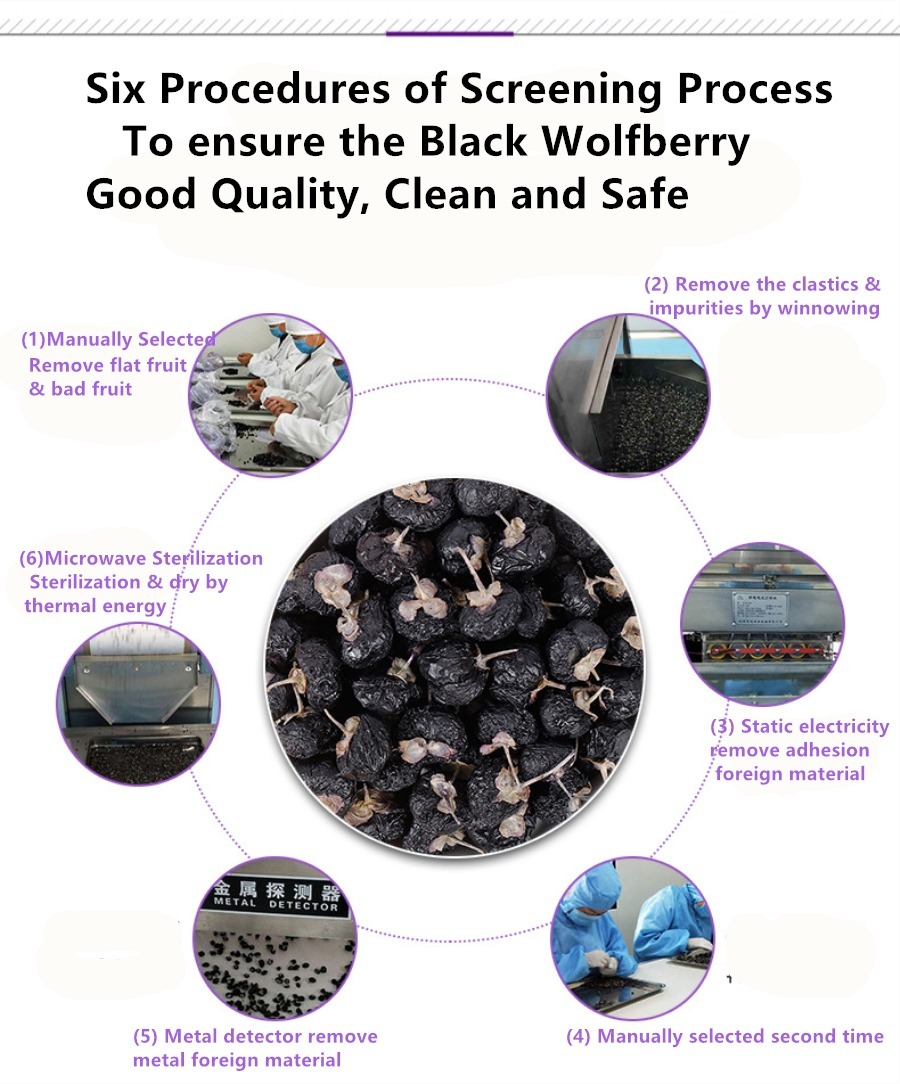 Brewing Instructions for
B
lack
Wolfb
erry Tea:
Directly eat or put into tea, water (Below 60℃ ) , wine for drinking. It is advisable to have 20g on a daily basis. You may add or reduce the amount depending on your specific situation.
Remember, the water temperature should be between 40-60ºC. Black Wolfberry is highly loaded with anthocyanin and using hot water above 60ºC to brew it would destroy it's nutrients and benefits due to the fragile of anthocyanin.
First prepare one cup (150 ml) of 40ºC-60ºC water.
Put 8-10 Black Wolfberries into the water.
Let steep for 3-5 minutes before drinking.Your cup of tea will begin to turn blue or purple within a minute. If you would like your blue or purple tea to change color (kids love this!), then simply add a drop of lemon, lime juice or some lemon slices to your drink and it'll magically turn pink.
It can be steep multiple times until all favors are gone.
No artificial colors, no additives, no preservatives!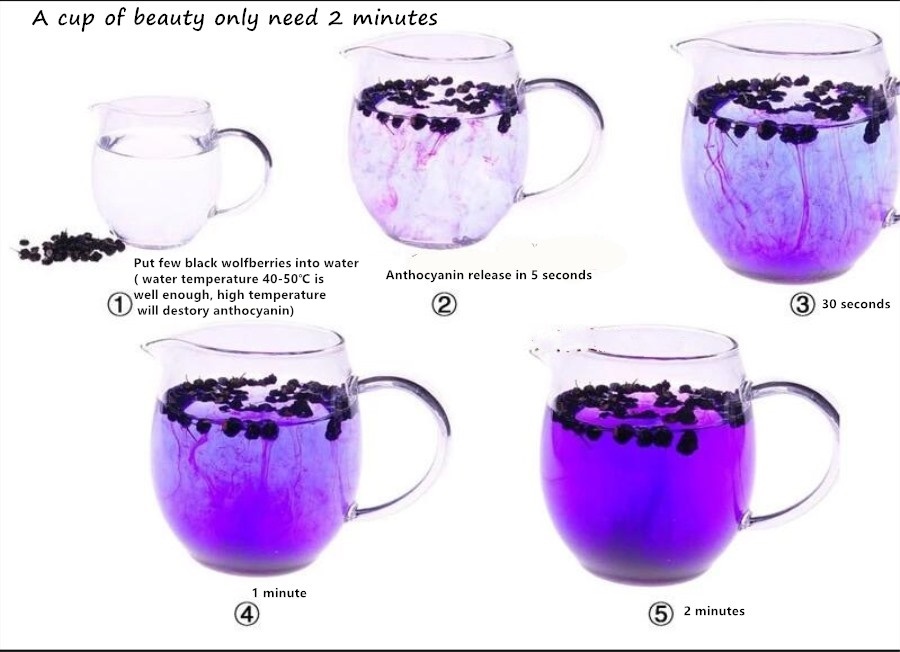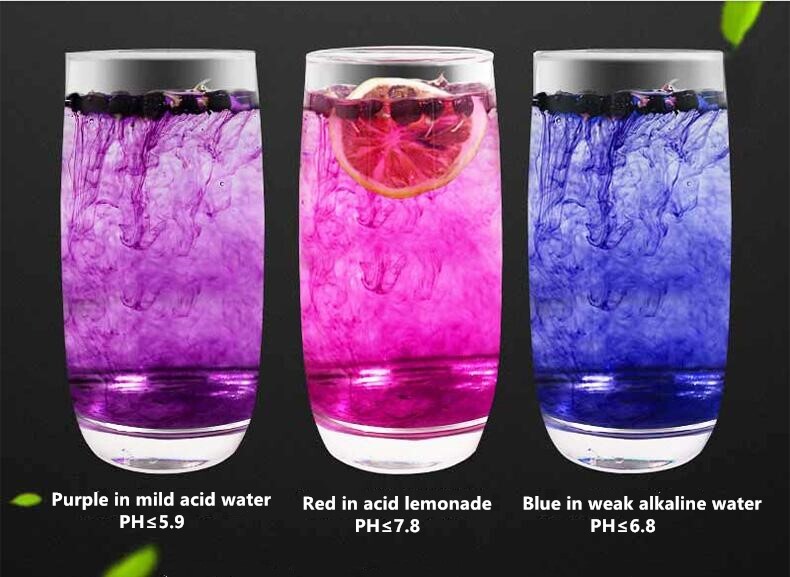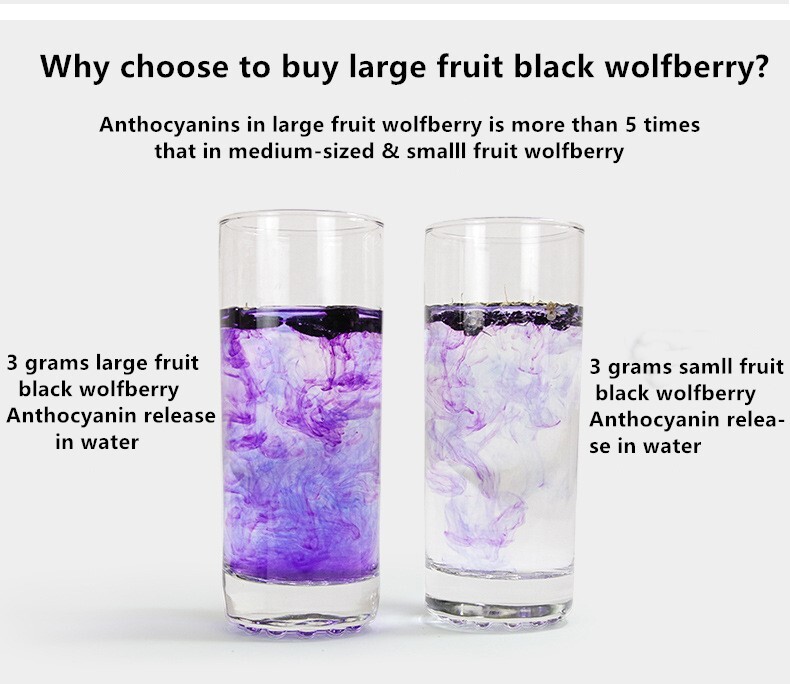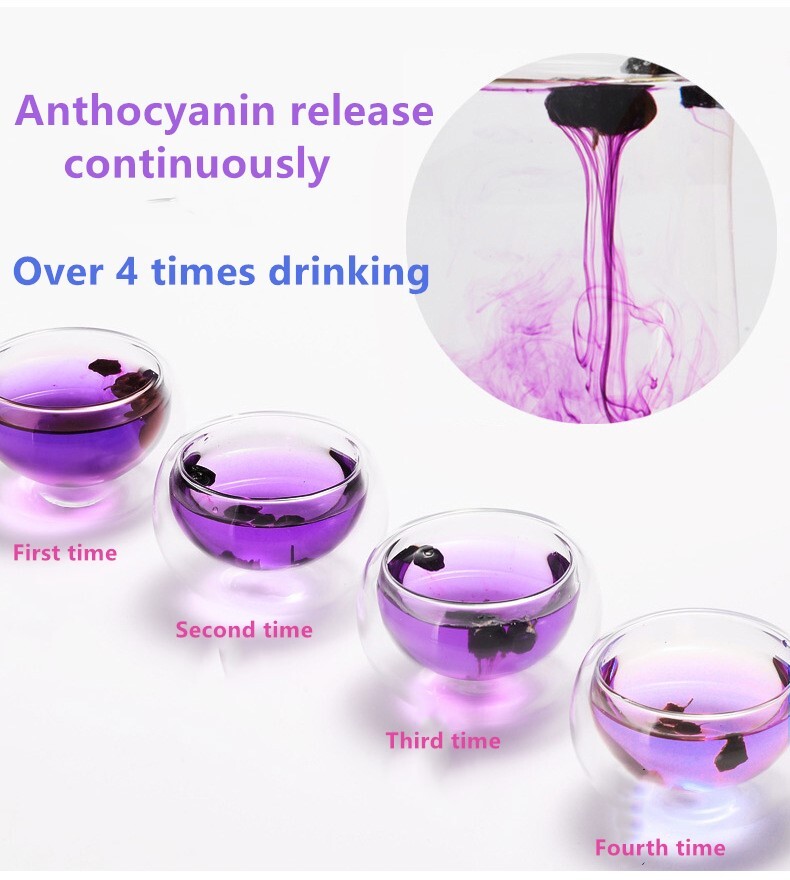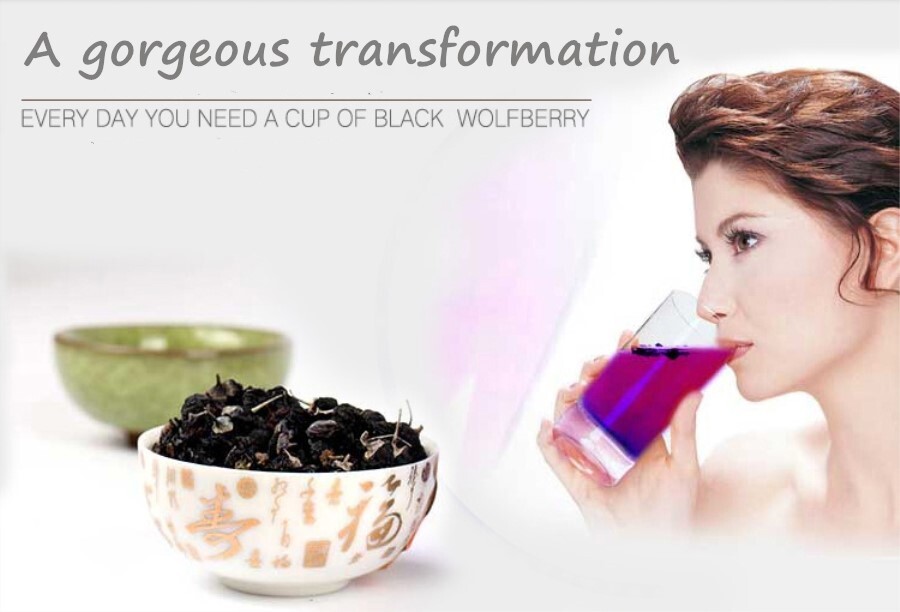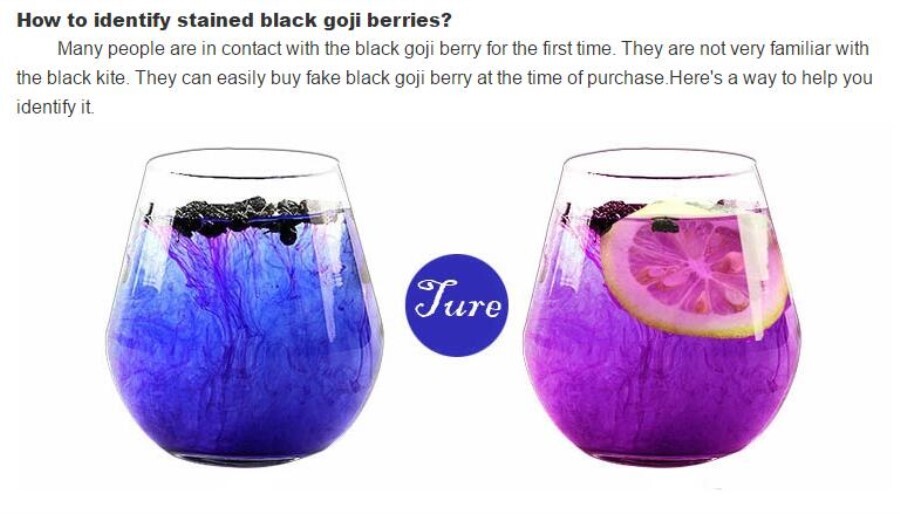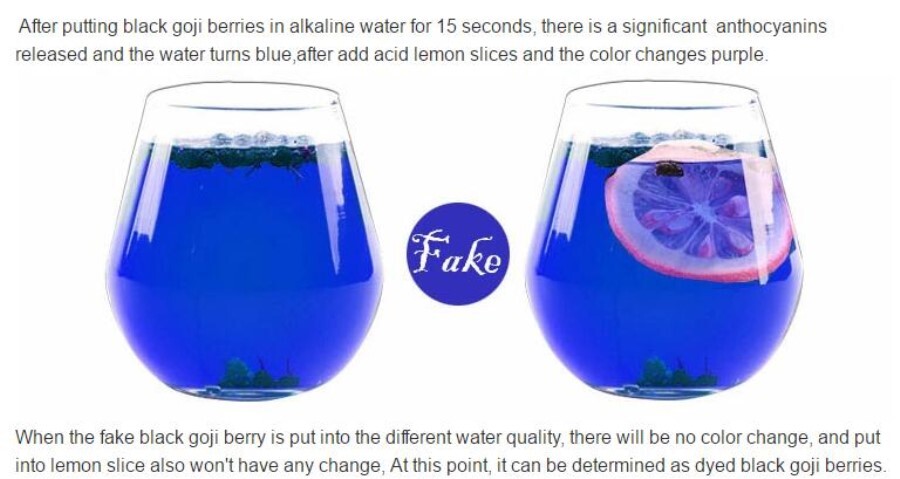 Product Overview & Details
Net Weight: 100g/250g/500g/1000g can be chosen

Berry Size:4-5mm/6-9mm/8-10mm can be chosen
Ingredients: 100% Black Wolfberries, dried
Botanical name: Lycium ruthenicum
Processed and manufactured in: China, dried using high-temperature ovens without chemicals (standard heat)
Country of Origin: PRC
Packaging: PET food grade can package
Quality: 100% Natural organic quality, free from harmful substances/chemicals/heavy metals. 100% cruelty-free.
Color and taste: Typical | Parts used: whole Wolfberry
Storage Instructions: Dry, Cool & Dark Conditions
Dietary & Allergy Info: Non GMO, Gluten Free. Suitable for vegans, vegetarians. No chemicals/preservatives/additives.
Best before: 12 months from production date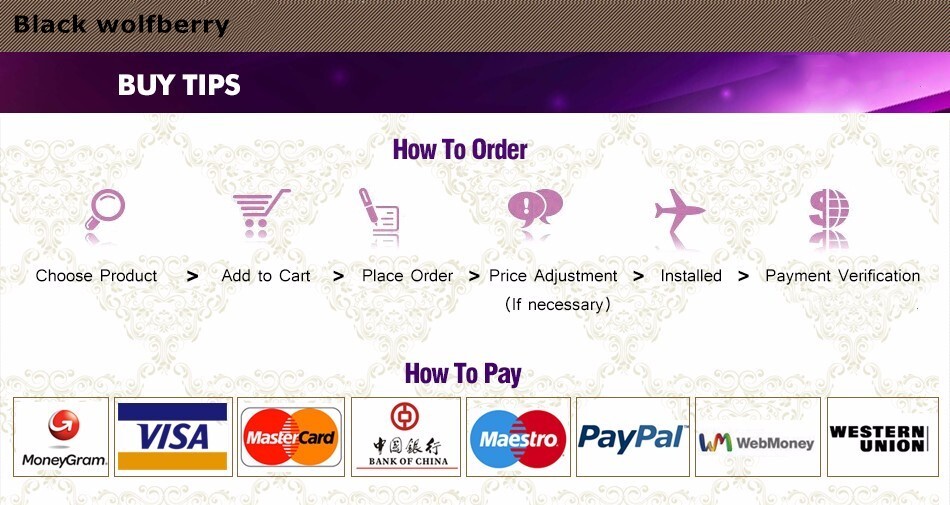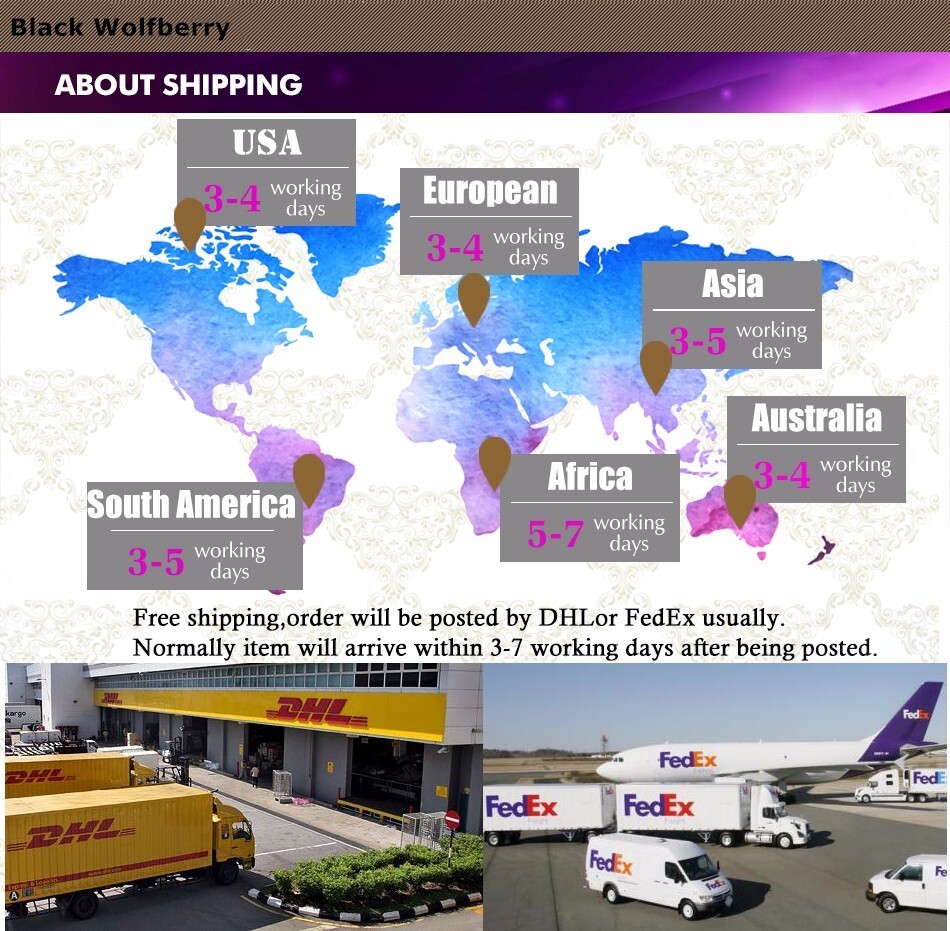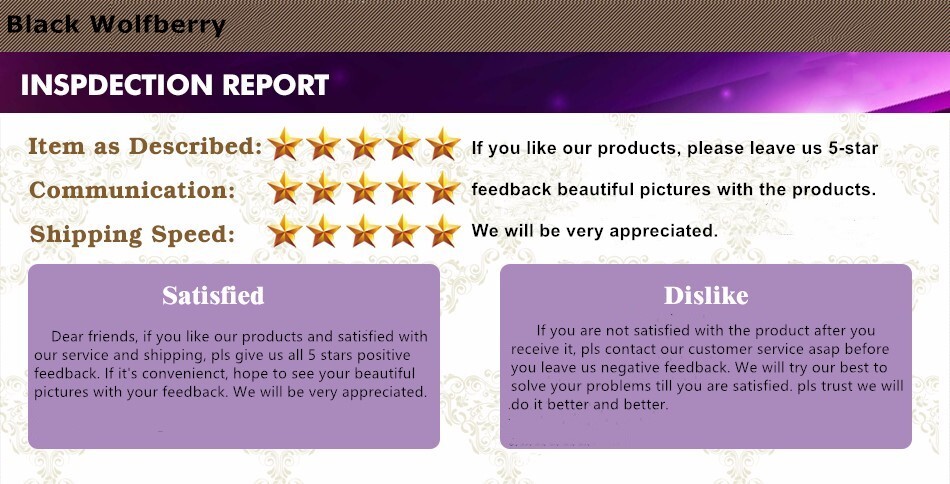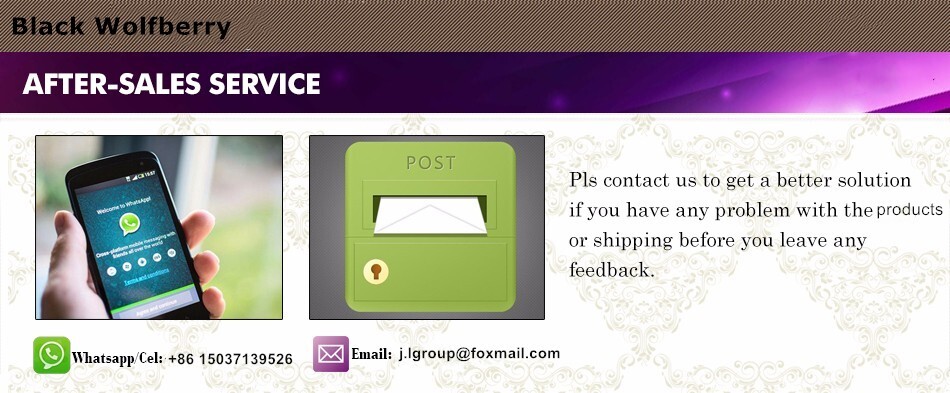 Tags: organic wild dried black wolfberry, black wolfberry, organic black wolfberry, cheap black wolfberry
If you want to know more products, we have: china jujube organic dried red dates, organic dried seedless green raisin